Heating Essentials
When the furnace goes out, you need a way to keep warm. Whether it's a power outage, a storm, a tornado, or an earthquake, you want to make sure you have enough blankets and emergency heat sources to keep you and your family warm. Plus, we've got small, portable space blankets and ponchos so no matter where you get caught in an emergency situation - in your car, out hiking, or traveling, you'll be able to stay warm and dry til help arrives.
There's a lot more in-store at Smith & Edwards than what you see here online: We've got generators, heaters, and all the fuel and batteries you need to keep warm and stay dry. Those can be tricky to ship! But check out what we do offer online: space blankets, ponchos, and more ways to keep dry and warm.
These emergency heating supplies are important to have in your emergency kit, your 72-hour kit, and your car emergency kit. That emergency blanket in your car can make a huge difference late at night on a closed mountain pass or on a road blocked by a fallen tree. Save your car battery and keep warm with these important emergency heating supplies.
Categories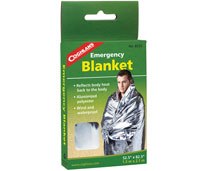 You can't afford not to have space blankets in your emergency kit! Whether you're building a car kit or a 72-hour kit, keep a few of these handy - at least one for each person - because who knows when the power goes out or the road closes. You'll be warm and safe with an emergency blanket or heat bag from Smith & Edwards.
Use the trusty double-sided survival blanket to shield yourself from the elements and increase your body heat. You can also use it as a sleeping pad with your sleeping bag - some would say it's more important to have a pad like this to provide warmth underneath your sleeping bag, than to have a covering over your head, in an emergency situation at night. The emergency heat bag here can function as a makeshift bivouac sack minus the sleeping bag: wrap yourself in the survival bag, and it will help you retain heat, shielding you from wind and rain.
Did you know? Blankets aren't just for heat! You can also use a space blanket to provide shade. If you're trapped in a hot, sunny environment waiting for help, you can open up a blanket to create shade, reflecting the sunlight away from your group.
View Products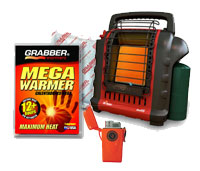 Half of the year is usually pretty brisk, downright chilly, or just cold as sin. Smith and Edwards is prepared to prepare you for this. Pick up a propane heater today, fight winter's bite. These heaters are great for keeping your tent warm ice fishing, too!
View Products
Products