Gift Wrapping
Create a delightful experience when you give gifts at Christmas, birthdays, and more: Smith & Edwards is the exclusive online source for Utah-designed All Wrapped Up wrapping paper (so popular at Swiss Days!) This amazing gift wrap is high-quality, comes on HUGE rolls that'll last gift after gift, and is made in USA. Plus, find the tulle that matches it perfectly to add excitement & joy to your gifts!
Yep, these fun gift wrap designs are modeled on paint cans - find your paint cans here for a fun craft project!
Find delightful dots, sassy stripes, and pretty patterns that will make your gift go from good to gorgeous! Mix 'em, match 'em, and stack 'em for a playful presentation. The rolls are large, the quality high, and the price is cheaper than buying bulk wrapping paper wholesale! Grab some of our matching tulle – regular or glitter, to go with your papers and you're all set to create a stunning present you'll be proud to give. Just be aware: You're going to fall in love with this paper. So much that you'll try to find everything you can to do with it. But as much as you want to, don't, I repeat don't use it for wallpaper….or to decorate the cat.
Categories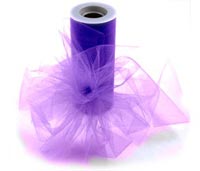 Find dozens of fun and festive colors in 6" tulle spools that will give your packages, crafts, and home décor that little extra touch. Use them alone or combine a few colors together for the perfect look. Pay special attention to our glitter tulle - that sparkle is dazzling! Check out our designer gift wrap that looks perfect with tulle!
When asked her favorite color, I once heard a friend reply, "GLITTER!" Find your glitter heaven with our great selection of gorgeous glitter tulle. Have an Elsa fan from the hit movie Frozen in your midst? The light blue and white glitter spools combined with regular light blue and white tulle would make the perfect skirt and wand for her! And think how gorgeous a wedding gift would be wrapped in silver glitter tulle. Love it!
Tulle is a popular medium right now used in many ways. It's commonly used for gift wrapping, home décor, tree decorating, making crafts, hair pieces, fabric flowers, centerpieces, wreaths, accenting clothing and more. This lightweight netting is easy to work with and doesn't twist or lose its shape. The large variety of colors makes it easy to find just the right combination for every holiday and every occasion.
View Products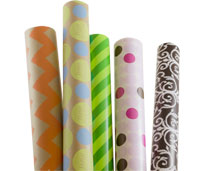 Give them a gift they'll love looking at as much as the gift itself! Discover beautiful designer gift wrap found exclusively online here at Smith and Edwards.
You'll find classy and coordinating stripes, dots, and more that will make your gift stand out from the rest. Accentuate your wrap with colorful tulle and watch their faces glow with excitement! These bulk wrapping paper rolls are so beautiful you'll want to find more uses for them than just gift wrap. Add some pizzazz to your craft projects, kids' lockers, paper bags, gift baskets (see darling gift ideas here,) table decorating, birthday decorations, and so many more fun uses you'll discover.
Explore our great variety of coordinating designer gift wrap. These beautiful colors and patterns look great alone but make an eye-catching presentation when multiple patterns are used, stacked on top of each other. Browse through our gift wrap images to get inspiration for color combinations with so many more to create on your own. You can use the same paint can gift idea with an open box wrapped and lined with goodies, a wide strip around a mason jar, or even wrapped around a vase with fresh flowers. Don't forget to add the tulle. It takes your gift giving to a whole new level!
With patterns this versatile you'll use them for many occasions - that's what is so great with classic dots and stripes! Take the white and red paper for example. Add some glitter red and white tulle for a fabulous Valentine surprise. Blue tulle is the perfect color to make it festive in July. Christmas just needs some green and for everyday you can keep it simple with basic red or add any complimentary color you like. These great designs are ideal for both boys and girls. You'll love it so much you'll be glad they come in 150 sq ft. bulk wrapping paper rolls!
View Products
Products