About Smith & Edwards
Farr West, Utah
Smith & Edwards - Ogden Location
OPEN 70+ YEARS
Phone: 801-731-1120
Hours: Monday-Friday 9:00am-8:00pm, Saturday 9:00am-6:00pm
Closed Sundays & most major holidays
3936 N. 2000 W. • Ogden, Utah 84404
Exit 351 off I-15
West Jordan, Utah
Smith & Edwards - Salt Lake City Location
OPEN SINCE 2017
Phone: 801-432-8370
Hours: Monday-Friday 9:00am-8:00pm, Saturday 9:00am-6:00pm
Closed Sundays & most major holidays
9010 S. Redwood Road • West Jordan, Utah 84088
Exit 295 off I-15
Smith & Edwards' History
Smith and Edwards's humble beginnings began in 1947 in the backyard of Bert Smith's West Ogden home. He and his Marine Corps shipmate, Lawrence Edwards, started the surplus business after serving together in World War II. Prior to leaving for the war, Bert was forced to sale his construction truck fleet. His wife, Amelia, saved the income from the sale and lived solely on Bert's government pay. Upon returning from the war Bert used the savings to finance the startup of his new business venture. Smith and Edwards was born.
A Time for Change
As the business grew more space was needed. In the mid 1950s, sixty acres were purchased in Farr West. This would become the company's permanent home. The new space was quickly filled with surplus. As the inventory grew, so did the need for merchandising the product. As a result the infamous store slogan was born, "We have everything you want, if we can find it!"
In 1962 Bert purchased a large lot of Navy mooring buoys. Each buoy measured 58 inches in diameter, weighed 680 pounds, and held 442 gallons of liquid. Combined and stacked the 13,418 buoys covered several acres of land. It took twelve years to move the buoys from the Navy base in Clearfield (the Freeport Center) to the Farr West location.
Bert saw tremendous opportunity in these rugged steel spheres while Lawrence did not. The two decided to end their business partnership, but remained good friends that continued to support each other through the years.
Smith and Edwards lost its founder March 31, 2016, a month shy of his 96th birthday. Bert was still active in the business and his constitutional work until his passing.
Building a Team
Smith and Edwards was dramatically changed in the late 1960s with the full-time employment of Bert's eldest son, Jim Smith. Jim shared his father's passion for hard work. Jim was the store President and CEO for over 50 years.
Under his leadership the store transformed into much more than a surplus store. Jim's impact was far reaching. It was under his direction that the store broadened product lines, began a partnership with Ace Hardware, and expanded the Farr West location. Jim's background in ranching, agriculture, and rodeo helped build the western department and later the western wholesale department.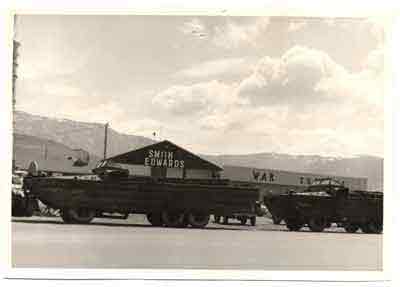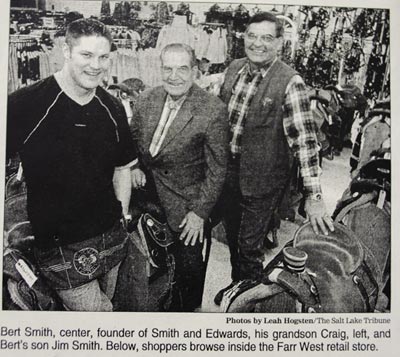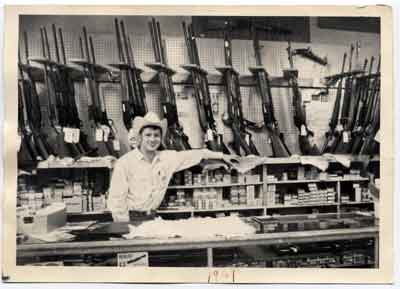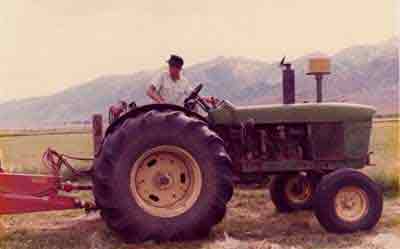 Jim was a respected member of the community and enjoyed donating his time to serve on many different community Board of Directors. He enjoyed giving back to the community and supported many local groups and events. He began a partnership with Primary Children's Hospital that is still supported today. He was the foundation that built Smith and Edwards into the successful business it is today. Jim passed away on March 6, 2013 at the age of 67. Gone too early and greatly missed.
Bert's son-in-law, Mike Casey, joined the businesd in 1970. Mike's passion and experience as an angler, hunter, and all round sportsman combined well with his leadership and sales ability. The perfect fit to manage the Sporting Goods Department. He was an amazing salesman and made many lifelong friends on the sales floor. Mike retired in 2016 after forty-six years of loyal service.
Bert's son, Steve, joined the business in the early 1980s. As the shoe department manager and buyer Steve began expanding the product assortment and offering his expertise. He is still actively involved in the business and still buying footwear.
In 2013, Craig took over the helm as company President. Craig has overseen the addition of the Web Store and was also instrumental in the purchase of the second location in West Jordan, which opened its doors in 2017.
In the 1990s Jim's children, Misti Smith Kosoff and Craig Smith joined the business. Misti took a special interest in growing and expanding the clothing department specifically in ladies and children. Craig's focus was outerwear, workwear and hunting apparel.
Smith and Edwards employs over 200 amazing associates with many longtime managers who have been with the company for decades. They are part of the extended Smith family. Their commitment and contributions have helped shape the store into the successful business it is today.
Moving Forward
Despite the tremendous competition from big retail stores, Smith and Edwards continues to grow and evolve. The combination of originality, local ownership, customer service, and knowledgeable associates has certainly added to the company's continued success.
Departments within the 171,000 square foot store include clothing, coats, workwear, shoes, boots, hunting, guns, ammo, fishing, marine, water sports, toys, housewares, Dutch oven cookware, candy, hardware, automotive, paint, military surplus, camping, backpacking, emergency preparedness, and western tack and jewelry.
This is all in addition to the yard, which contains an assortment of military surplus... the "scrap" that started it all.
Committed to Service: Local Programs & Primary Children's
Smith and Edwards is an ongoing supporter of local, and not so local, community events, with special involvement in various rodeos, fairs, 4-H programs, FFA, schools, scouting, Primary Children's Medical Center and other such programs.
The Smith Family matches every dollar raised for Primary Children's - click here to read more about this program.
Happy 70th Birthday Smith & Edwards - Rhonda Lauritzen, Northern Utah Business - Ogden Weber Chamber of Commerce, 2017
Brigham City Ace Hardware and Smith & Edwards Among Top Ace Hardware Fundraising Retailers for Children's Miracle Network Hospitals - Kiersten Clements, Children's Miracle Network Hospitals, 2017
Smith and Edwards in the News
The Crazy One-Of-A-Kind Store You'll Only Find In Utah - Catherine Armstrong, Only In Your State, 2017
Bert Smith, Ogden surplus store founder, remembered as creative thinker - Janae Francis, Standard-Examiner, 2016
Create Your Own Ammo Box Decor - Video by Studio5 on KSL, 2016
A'unique mix of everything': For 65 years, Utah's Smith and Edwards store sells a hodgepodge - Video & profile by Ray Boone of KSL, 2016
Smith & Edwards Pack Saddles In Demand Across Country - Smith & Edwards Western Tack Workshop featured by Standard-Examiner, 2015
Uniquely Utah: A store for country folks - Smith & Edwards featured by FOX13's Todd Tanner, featuring Mr. Smith, 2015
Community mourns death of'cowboy legend' Jim Smith - Standard-Examiner, 2013
Remembering Jim Smith - Wynn R. Covieo, Standard-Examiner, 2013
About Utah: Yep, he's even got a kitchen sink - Smith & Edwards featured by Deseret News, 2011
Getting Lost at Smith and Edwards featured on Utah.com, 2000