Whether you wear spurs for rodeo or ranching, whether your kids are in 4-H raising lambs or racing barrels, and whether you bulldog, ride trails with your bedroll or just day trips, pack out elk in the winter, or just rope in the back yard.... you'll find everything you need at Smith & Edwards.

Join Smith & Edwards'
just for Horse People mailing list for discounts, offers, & helpful leather care tips today...
You've found your source for Western riding and country cooking & home goods.
We're fun!
We update our blog with helpful tips & fun ideas we think you'll love. And you MAY even get photos & video PROOF of us pranking our friends around here! They love it when we put that stuff on Youtube.... *wink*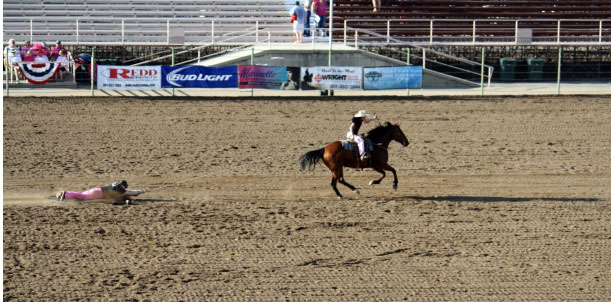 Like the time we told Tom (who makes saddlebags) it would be FUN to be part of the Hide Race at Ogden Pioneer Days. Jess (who ships all the orders) didn't tell him she'd be on the horse instead of him.... and he'd need to wear pink pants for breast cancer awareness....
We've been around a long time
Smith & Edwards started in 1947: Bert Smith's side business while he ran his ranch in Ruby Valley, Nevada. In 1979, we began making our own leather tack for Western ranches here in our shop in Ogden, Utah, and took it on the road.
---
In 2013 we put our Western Tack online. Now you can order the riggin and ropes you need at your ranch, for rodeo, bags & gear for trail riding and hunting on horseback... and get it delivered in a box on your doorstep.

Mr. Smith in the workshop circa 1980.
He's still here at 95 years old, and I think that phone is too

Today: Sorting leather to make into tack,
hackamores, and pack bags.
Keep exploring Smith & Edwards!