Product Number: SMARTY-GRN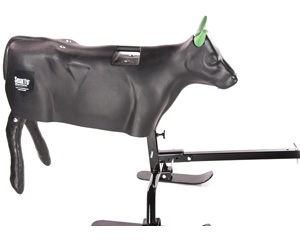 Available for in-store pickup only
Due to shipping restrictions, this product can only be picked up in-store at Smith & Edwards. Come on in and get it!
---
Mimics the action and feel of a live steer
Realistic corners for heelers, dallying, and legs
Easy to pull
Easy to break down for travel or storage
Legs come together and pull back like a real steer
Moves on skis behind a 4 wheeler
The perfect training companion for a serious roper
Backed by a 4 year warranty
Product Details
Product Weight: 220.00 LB
Shipping Dimensions: 48.00" x 48.00" x 40.00"
ADDITIONAL INFORMATION
If you are a serious roper, this 4 wheeler roping dummy is the best training tool around. It easily attaches to the back of your 4 wheeler or side by side. It's the only trainer to give you a true corner so you can ride in the same position as a live run. The dallying feels just like it would when up against a real steer and the solid legs react and feel authentic as well. It's easy to pull behind you and assemble/disassemble. With just a few pins you can have it up and running or down for packing in a jiffy.
You may also be interested in: