Side Release Clips 1/2" - Pack of 50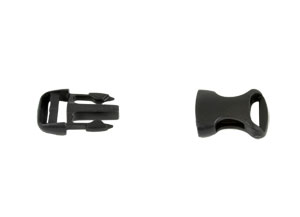 1/2" (13mm)
50 Pack Bagged
Black Acetal Plastic
Smooth Contoured Shape
Make your own survival bracelets and more!
Product Details
Product Weight: 0.21 LB
Shipping Dimensions: 4.00" x 4.00" x 1.25"
ADDITIONAL INFORMATION
These buckles will fit perfectly and comfortably around the wrist; securely holding your survival bracelet. However, at a momentís notice circumstances my change and your buckle will easily come off when the going gets tough. Although made of plastic, donít let that scare you about the quality. Acetal plastic is one of the most durable and strongest of all thermoplastics; so, you can rest assured that you will get good life out of these buckles. Further, their chemical properties allow them to be resistant to moisture and most other chemicals including solvents, ensuring that you survival bracelet can be with you in almost any circumstance.
You may also be interested in: